【オランダ・ライフ】
2018年08月09日
Dear Flower Lover
Very much happy surprised I was to see so many flower bouquets and so many fresh flowers in the flower shop; Groen Flora in Bilthoven
Summer holiday season 4 August and 30 degrees outside and in the shop 7 flower designers making arrangements and bouquets.
It was so nice to see papa Joop Groen (83) again still working, making bouquets and going to the Aalsmeer flower action market.
I worked for him in this beautiful flower shop in 1988, just before I went to Japan.
Mr. Willem Groen start this shop in 1934, his son and wife Joop & Lenie Groen took over in 1978 and since 1993 John & Marcel Groen.
High level, super quality and many arrangement are ready for the costumers in Bilthoven what is a very wealthy town with many huge houses.
John Groen his son 15 years old was painting one part in the shop, a really family flower shop.
www.groen-flora.nl
Thank you Family Groen and all flower designers for the warm welcome with coffee and coffee broodje!!!
more photos →
FB
Relax, Smile and Enjoy the Flower Power.
Love Dorien Roling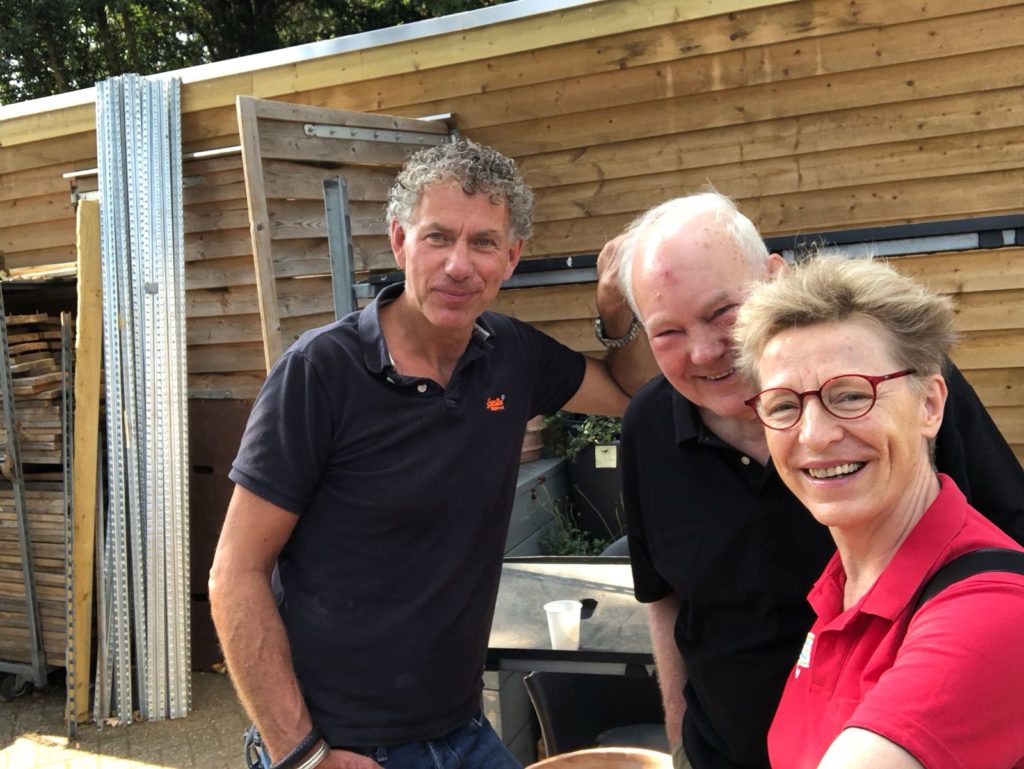 【オランダ・ライフ】
2018年08月04日
Dear Flower Lover
Her dream came true: Tara Vos (the lady on the photo) opened her flower shop on her birthday 15 June 2018. Aloha Bloemen, what stand for Love + Gratitude + Compassion 3 ingredients with flowers.
She has a nice outside presentation with pot plants and the fresh flowers, hand tied bouquet are inside the shop.
Her husband Sel Vos (on photo) (carpenter) helped her with the renewal of the shop interior and painting. For flower arrangements photos please visit her website :
www.alohabloemen.com
Thank you very much for your time Tara and success with your flower shop!
Relax, Smile and Enjoy the Flower Power.
Love from the Netherlands 🇳🇱
Dorien Röling
more photos →
click