【ディプロマ DFA1】
2019年03月08日
Dear Flower Lover
河津桜, 河津桜, 河津桜 beautiful河津桜!!!
Do you also love 河津桜 so much? 梅の花の香りも大好きですよね。
I can't stop taking photos of this beautiful nature flower explosion. 元気Flower Power!!
The new graduate Dutch Flower Arrangers where very very happy with passing the DFA examination last month.
Yes already for 25 Years;
You can study Dutch Flower Arrangement in Japan &
Yes you can take the international DFA examination in Tokyo or Amsterdam, Osaka, Kobe, Kyoto 😉 &
Yes you can start today with the brand new ON-LINE lesson &
Yes we are going to celebrate this success with all the brand new Dutch Floral Designers & celebrate our 25 th anniversary at the Netherlands Embassy in Tokyo this April enjoying the Tulips in full bloom.
Do your like to learn the best technique and beautiful Dutch Flower Arrangement is this what you are dreaming off?
Welcome to join our Open lesson day DFA Dutch Flower Arrangement in our atelier in Yokohama.
I love teaching and meeting you, come a feel, see and smell if this is what makes you happy!
Dates open lesson below;
オープンレッスン DFA 2019;
1日―2レッスン 10;00 – 16;00
• March 23 Saturday
• May 19 Sunday
• June 6 Sunday
• July 7 Sunday
• September 22 Sunday
• October 12 Saturday
Relax, Smile and Enjoy the Flower Power
Love from Dorien Roling
先月、DFA試験を行い、無事生徒さん合格しました!
日本でDFA試験が始まって今年で25年です。
日本でオランダのフラワーアレンジメントが勉強できます。
東京、アムステルダム、大阪、神戸、京都でオランダの国際ライセンス DFAを受験できます。
オンラインレッスンですぐに勉強できます。
25周年の記念すべきDFA合格者の皆さんのディプロマ授与式を、チューリップ満開のオランダ大使館で行います!
夢を叶えるために、確かな技術が身につき、美しいオランダのフラワーアレンジメントを勉強しませんか?
横浜アトリエで行うDFAオープンレッスンに是非ご参加ください。
皆さんにアトリエでお会いし、指導できることを楽しみにしています。アトリエに来て、あなたがハッピーになれるか見て、そして感じてください。
オープンレッスンのスケジュールは以下の通りです:
1日2レッスン 10::00 – 16:00 3/23 (土)
5/19 (日)
6/6 (日)
7/7 (日)
9/22 (日)
10/12(日)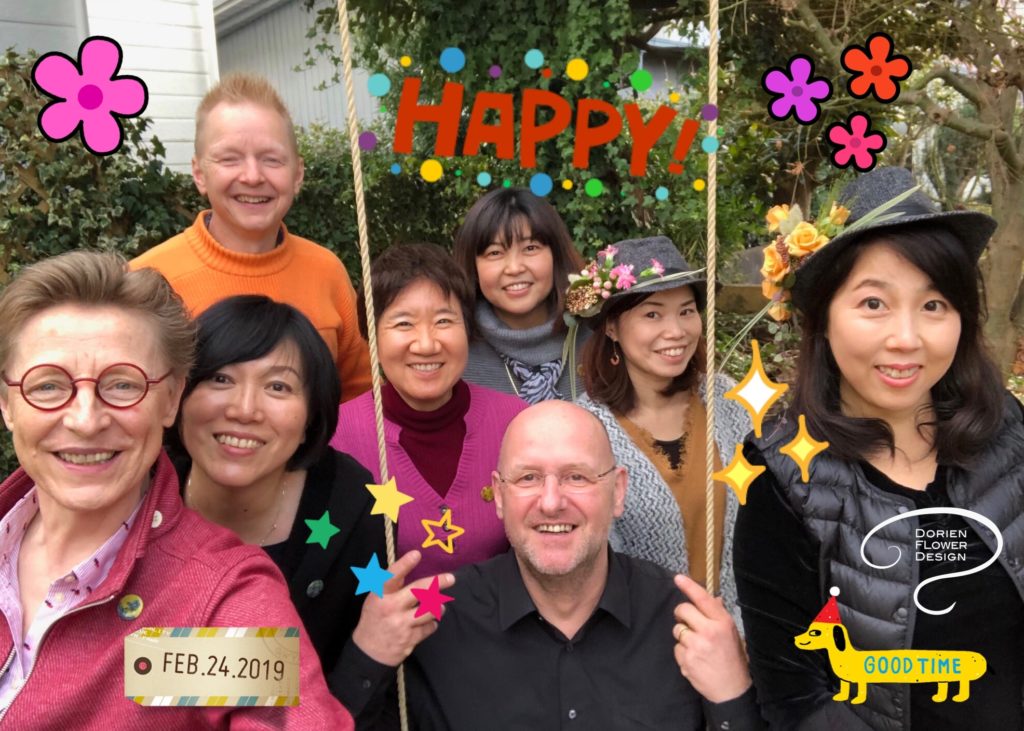 【ドリーンのお気に入り】
2019年01月17日
Dear Flower Lover
How are you?
Dorien's 10 points about the Gerbera;
1. Abundance of color choices like yellow, red, pink, purple, orange and so on. Only blue is not yet available.
2. Flower head sizes like mini, medium and large goes from 6 cm to 12 cm.
3. Varieties; beside the standard flowers, Gerbera pasta is really cool looks like pasta and the Gerbera gerrondo terra are beautiful filled flower.
4. Inexpensive compare with other flowers like Rosa and Dianthus.
5. Gerbera don't need a lot of water, great to use in water tube.
6. Gerbera are growing a bit – when you use it in a compact hand tied bouquet with other flowers it will stick out the next day, just pull it back and cut the stems.
7. Treatment; after you bought the Gerbera at the flower market; – cut the stems 3 cm, wrap them straight up tightly in a newspaper (for minimum 1 hours) and place them in a clean vase with water and cut flower food. The water level in the vase can be approximately 5 cm. The stem has a hairy stem easy to be rotten.
8. Gerbera come originally from South Africa.
9. Gerbera are used as indoor& garden plants and cut flowers.
10.I use Gerbera in classic arrangement, free style arrangement and in my Trendy workshop.
Relax, Smile and Enjoy the Flower Power.
Love, Dorien Roling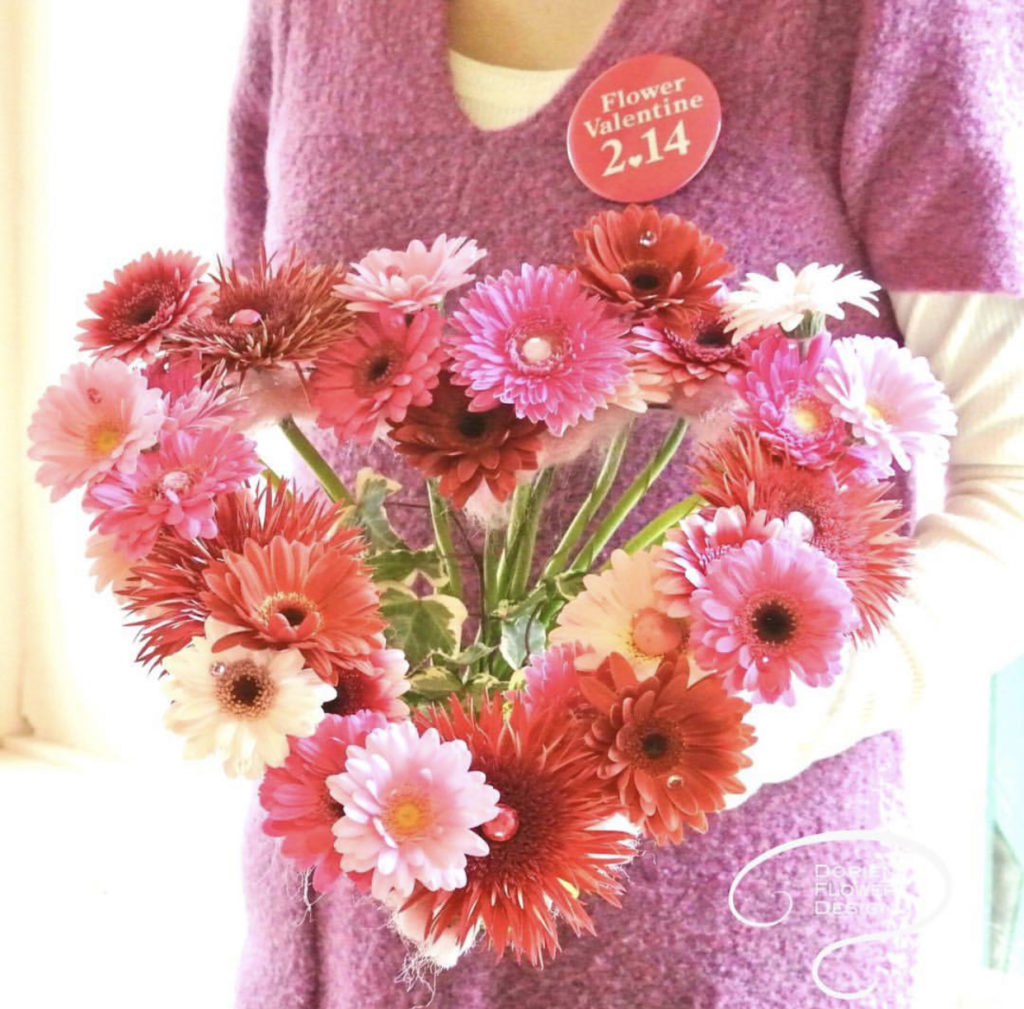 【作品展】
2018年12月07日
Dear Flower Lover
Celebrate the Fragrance of the Roses 🌹
"Oooh what a nice smell here!!" smiled a visitor entering the room full with Fragrance Roses. She could feel the Flower power!
Food for our soul, blessing for our eyes and the fragrance Roses heaven for our nose!
How fortunate we are to be able to enjoy this paradise of fresh flowers!!!
For all our Dutch Floral Designers a great opportunity to practice and show their friend s& family their design Theme : bridal & fragrance Roses.
Big applause for all our Dutch Floral Designer for their participating and good maintenance of the fresh flowers.
Special thanks to The Netherlands embassy: Mr. Evert Jan Kraijenbrink for selecting the Embassy prices- 3 best Arrangement!!!
Let's keep sharing our passion for flower to make ourselves and other people happy and smile! For photos please look ad our FB
http://www.facebook.com/DorienFlowerDesign
We also have a special FB group only for Dutch Flower Design lovers; you are welcome to apply: Dutch Flower Arrangers Japan.
Relax, Smile and Enjoy the Flower Power.
Love, Dorien Roling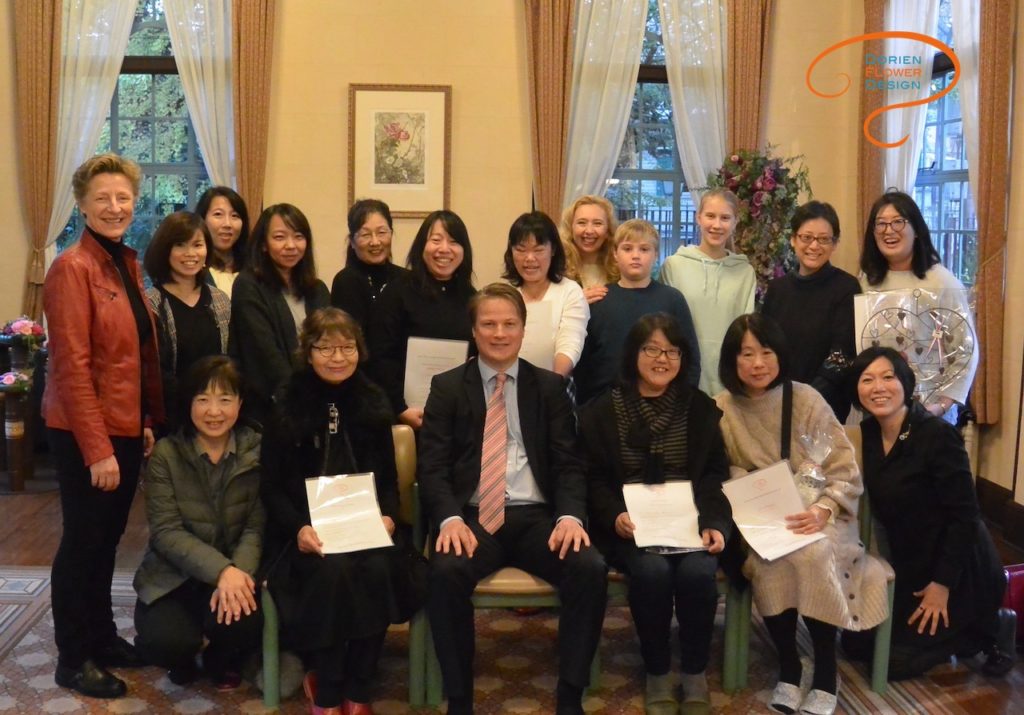 【ディプロマ DFA1】
2018年11月29日
Dear Flower Lover
Yes our Dorien team did it!!!
I am so grateful!! Now you can study Dutch flower arrangement at your own location.
We launched our ON-LINE video lesson. 26 Dutch Flower Arrangement videos where I demonstrate each arrangement step by step.
Beside the videos you can download your digital textbook. Color photos and illustration step by step how to make it.
You can start today, get your flowers, watch the video, and use your digital textbook on your PC, iPad, iPhone or smart phone.
After finish your arrangement you can check you arrangement according the Technique check list, and Design check list. After completed the arrangements you can get the Dutch Flower Arrangement Certificate by Dorien Flower Design.
I am so excited about this ON-LINE video lesson, what is in Japanese and English. I cannot wait to welcome you to our close FB group where you can ask your questions and post your photos.
Question from my student;
1) Can I download this PDF textbooks only one time? No you can download the PDF files 365 days.
2) Beside downloading the textbooks on my PC can I also watch this on my iPad and iPhone? Yes you can watch on I-pad, I-phone.
3) Do I need the certificate before I participate in the DFA open examination? No, you can join the open DFA examination without the certificate.
4) How long can I see the videos? The videos you can see 365 days any time as much as you like.
Try it out – if this is what you are waited for; FREE Shoulder corsage video
https://dorien-flowerdesign.jp
Relax, Smile and Enjoy the Flower Power.
Love Dorien Roling
ドリーンチーム、やりました!!
ダッチフラワーアレンジメントがご自宅で、どこでもすきなところで勉強できるようになりました!
ドリーン・ローリンがデモンストレーションをする26ダッチフラワーアレンジメントのビデオ、オンラインビデオレッスンがスタートしています。
オンラインビデオレッスンをご購入いただくと、写真やイラストで作り方を説明しているデジタルテキストブックをダウンロードしていただけます。
お花を用意して、ビデオを見て、PCやiPad,iPoneやスマートフォンでデジタルビデオを見て、今日から勉強できます!
アレンジメントを作ったあとは、テクニックやデザインのチェックリストをもとに、アレンジメントをチェックできます。
すべてのアレンジメントを作成して、レポートを送っていただくと、ドリーンフラワーデザインの修了証を発行します。
オンラインビデオレッスンのテキストは日本語と英語併記です。
Facebookの非公開グループでみなさまからの質問も受け付けます。
生徒さんからのお問い合わせ
1) PDFテクストブックのダウンロードは1回のみですか?  1年間365日、何度でもダウンロードしていただけます。
2) PCだけでなく、タブレットやスマートフォンでもテクストブックはダウンロードできますか?見ることができますか? はい、できます。
3) DFAのオープン受験前に、オンラインビデオレッスン修了証が必要ですか? いいえ。修了証がなくてもオープン受験していただけます。
4) ビデオ視聴はどれくらいできますか? 1年間365日見放題です。
オンラインビデオレッスンのうちの1つ ショルダーコサージュの動画がフリーで視聴いただけます。
是非ご視聴ください。  
https://dorien-flowerdesign.jp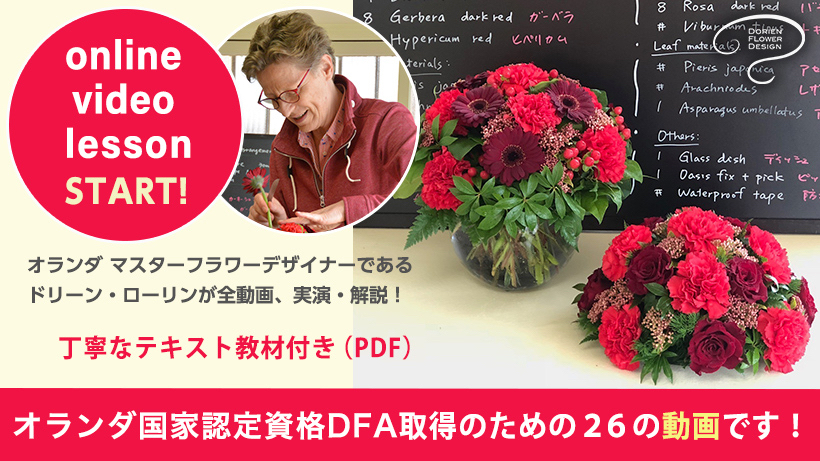 【オランダ・ライフ】
2018年08月09日
Dear Flower Lover
Very much happy surprised I was to see so many flower bouquets and so many fresh flowers in the flower shop; Groen Flora in Bilthoven
Summer holiday season 4 August and 30 degrees outside and in the shop 7 flower designers making arrangements and bouquets.
It was so nice to see papa Joop Groen (83) again still working, making bouquets and going to the Aalsmeer flower action market.
I worked for him in this beautiful flower shop in 1988, just before I went to Japan.
Mr. Willem Groen start this shop in 1934, his son and wife Joop & Lenie Groen took over in 1978 and since 1993 John & Marcel Groen.
High level, super quality and many arrangement are ready for the costumers in Bilthoven what is a very wealthy town with many huge houses.
John Groen his son 15 years old was painting one part in the shop, a really family flower shop.
www.groen-flora.nl
Thank you Family Groen and all flower designers for the warm welcome with coffee and coffee broodje!!!
more photos →
FB
Relax, Smile and Enjoy the Flower Power.
Love Dorien Roling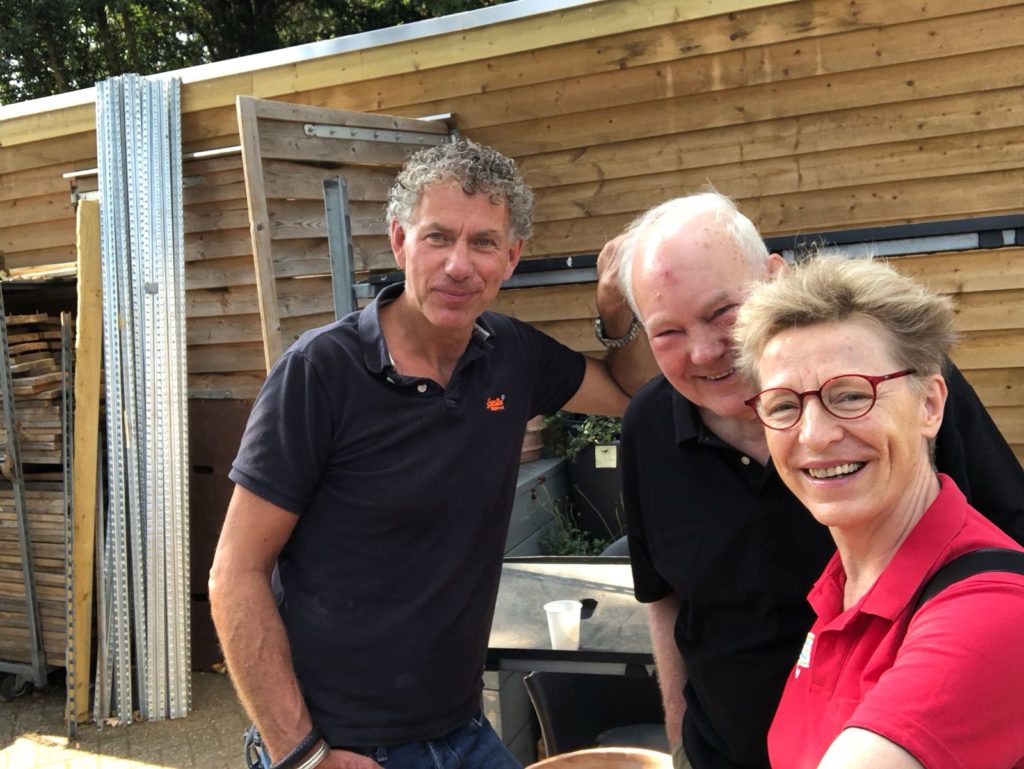 【オランダ・ライフ】
2018年08月04日
Dear Flower Lover
Her dream came true: Tara Vos (the lady on the photo) opened her flower shop on her birthday 15 June 2018. Aloha Bloemen, what stand for Love + Gratitude + Compassion 3 ingredients with flowers.
She has a nice outside presentation with pot plants and the fresh flowers, hand tied bouquet are inside the shop.
Her husband Sel Vos (on photo) (carpenter) helped her with the renewal of the shop interior and painting. For flower arrangements photos please visit her website :
www.alohabloemen.com
Thank you very much for your time Tara and success with your flower shop!
Relax, Smile and Enjoy the Flower Power.
Love from the Netherlands 🇳🇱
Dorien Röling
more photos →
click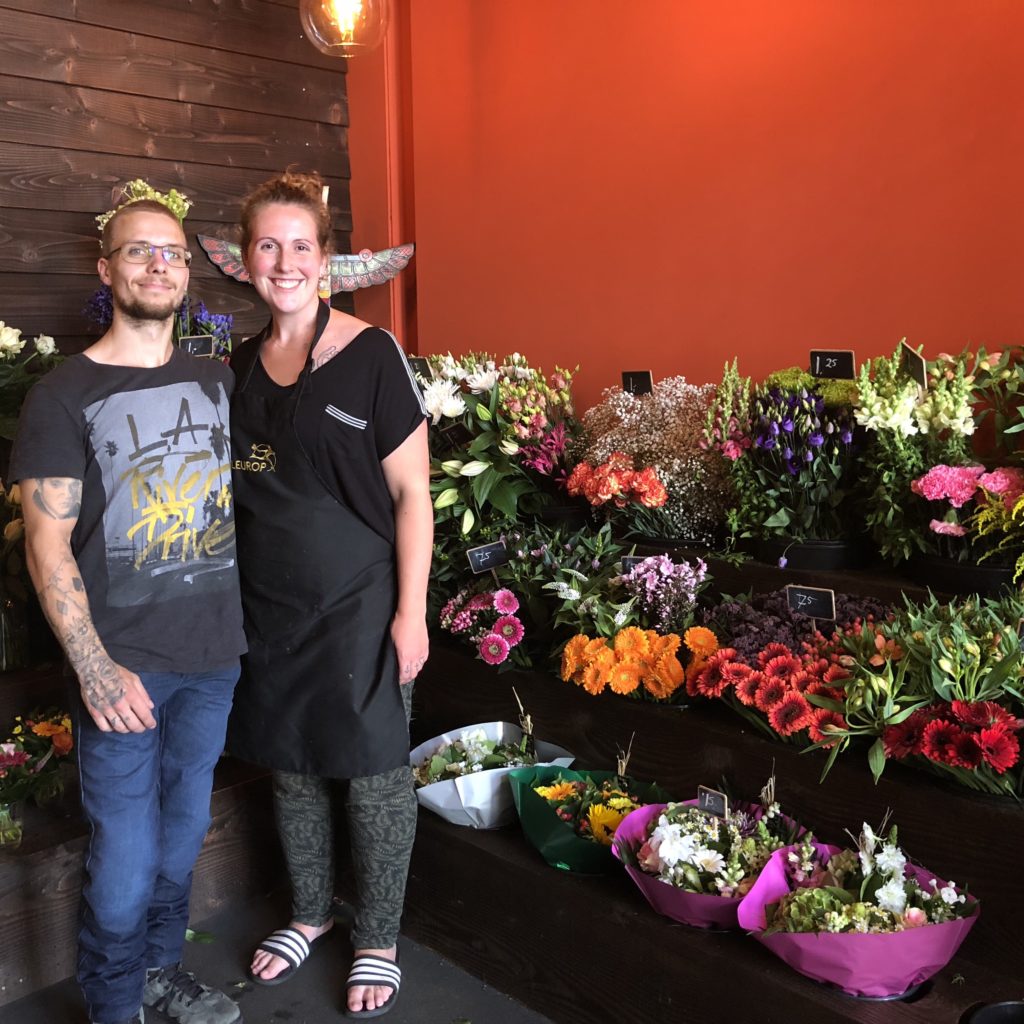 【ドリーンのお気に入り】
2018年06月28日
Dear Flower Lover
Sharing flower power ​and passion for flowers became ​my​​ lifetime work.
The love for flowers I got from my grandfather.
Knowing that flowers makes people​​ happy​ and warms their hearts,​ ​is my drive to continue teaching it gives me great satisfaction.
Flowers for​ happy weddings​,​ flowers for grieve, flowers for new born babies​ for graduation, opening new business, birthday, wedding anniversary, valentines, mother's day​.
Flower tells I love you​, I care about you​.
How great it is to receive flowers!!!
Once I had to teach ​17 ​directors from hospitals all male- first time for them to make a flower arrangement.
Being creative – using ​their​ sense , a great way to massage ​their​ brains creativity!!
Later we heard that their wife's where so surprised and happy with the hand made flower arrangements by their husband.​!!
Lets keep sharing our beautiful flower power job to make as much as possible people happy. Please get my FREE E-BOOK how to SPEED up your working time to make flower arrangement. Free download;
https://dorien-flowerdesign.jp/ebook/
Relax, Smile and Enjoy the Flower Power.​
​Love Dorien Roling​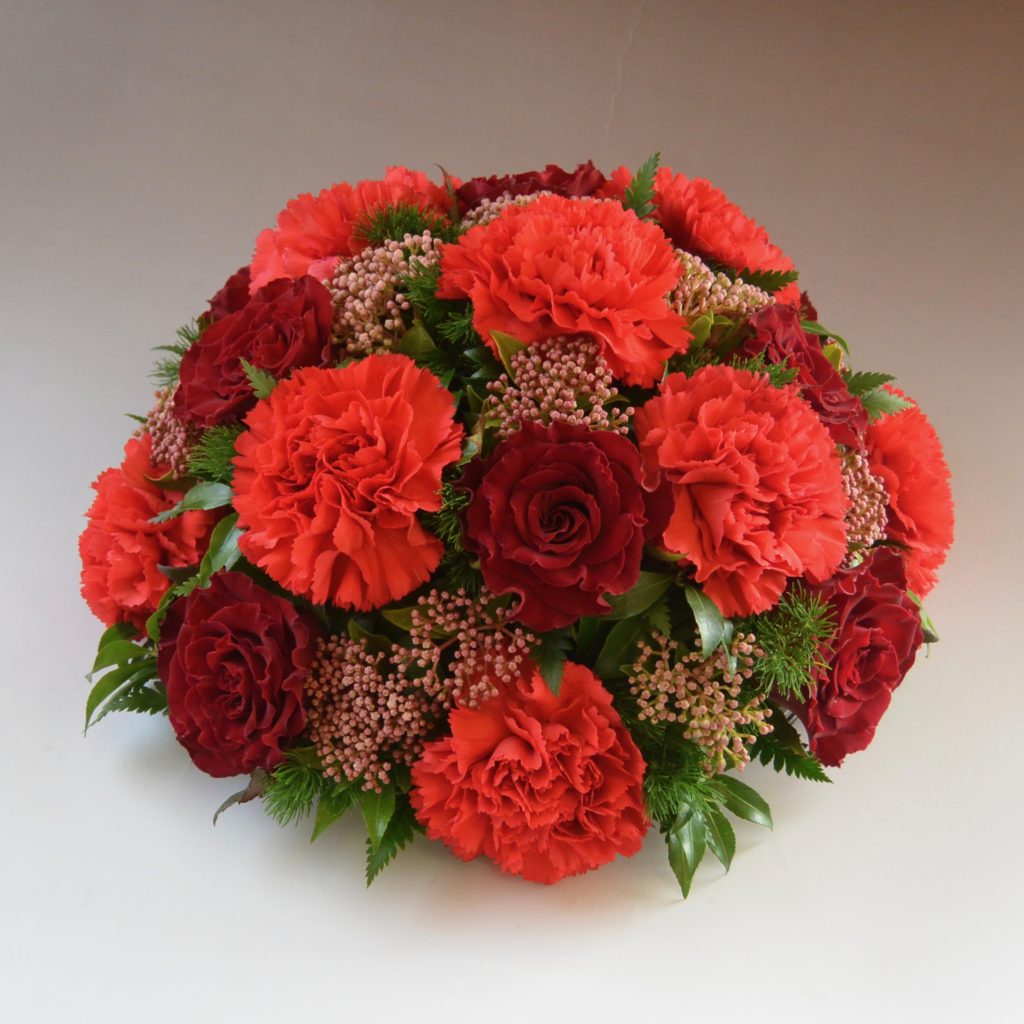 【ドリーンのお気に入り】
2018年06月21日
Dear Flower Lover
Time =Money inspired me to make a e-book about SPEED.
#Speed in your flower shop; Making a hand tied bouquet – in front of your customer 🙁 :):)
#Speed in a flower examination; Can you make it in the time frame.
#Speed in your demonstration; making a hand tied bouquet in no time always give your students/ audiences a "WHOOOO" moment !!!
You are the expertise and have to show that!!
I made a e-book about my SPEEDY points that I use every day. hope this tips will help you to speed up!! Of course practice every day is the main key point for our SPEED.
Here's the link to my free e-book
https://dorien-flowerdesign.jp/ebook/
1)Please let me know which tips you liked most?
2) Do you have other SPEED UP tips? Please let me know!!
Let's keep sharing the flower power to make our heart warm and 😃 happy.
Love Dorien Roling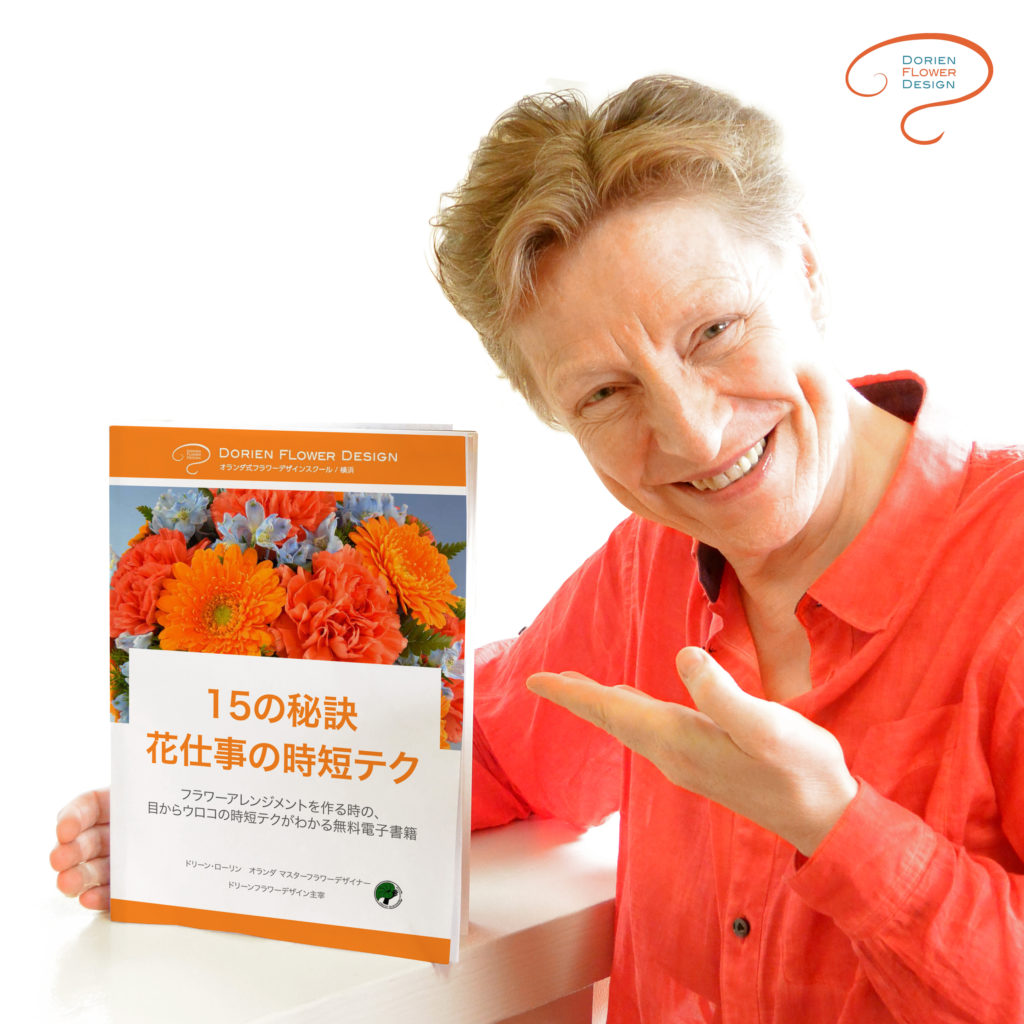 【ドリーンのお気に入り】
2018年06月12日
Dear Flower Lover
​​​Tokyo & Amsterdam ​10.000 km​.​ between us​.​
She LOVES flowers and that is easy to arrange for me.
My florist friend make a flower bouquet with my mothers favorite flowers.
She deliver them, and instead of the message card I make a video message.
So my mother get fresh flowers and a short video. What a great way to make her happy​​!
Flower power makes people happy.
Do you like to study Dutch Flower Arrangement?
Last call for our OPEN LESSON day 16 June.
In the morning I will show you what kind of beautiful flower design you are going to master, and in the afternoon you will make a hand tied bouquet . Welcome to join !!
Relax, Smile and Enjoy the Flower Power.
Love Dorien.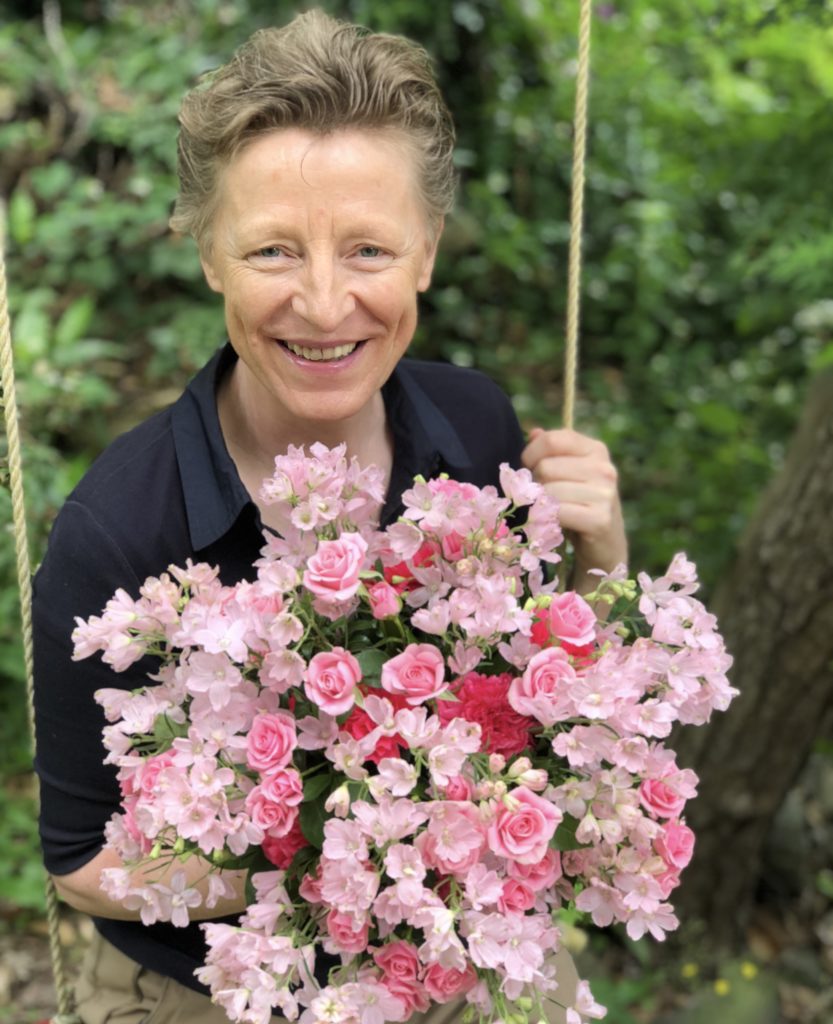 【ドリーンのお気に入り】
2018年06月03日
Dear flower lovers;
For me to use Horse with carriage on my wedding day is most romantic.
Being picked up from my house (I can hear the click clack from the horse shoes :):):):)drive to the town hall decorated with beautiful flower arrangement to marry and then take a nice tour with the 🐎 carriage in nature to make some great photos.
Can you imagine the carriage decorated with beautiful fresh flowers!!!
This is for me no 1. Their are also other options: antique car or your own car, motorcycles, bicycle or 🚣🏻‍♀️ boat. All unique transportation options in the Netherlands 🇳🇱 for the wedding day.
And all decorated with fresh 💐 !!!! Which one you like to use on your wedding day? Please let me know🙏.
1) horse & carriage 🐎
2) antique car 🚙
3) you own car 🚗
4) motorcycle 🏍
5) bicycle 🚲
Students make this modern car 🚗 decoration in the ADFA Advance Dutch Flower arrangement lesson.
Are you already follow me on Instagram? https://www.instagram.com/dorienflowerdesign/
Relax, smile and enjoy the flower power!!
Love Dorien Roling