【ドリーンのお気に入り】
2018年06月12日
Dear Flower Lover
​​​Tokyo & Amsterdam ​10.000 km​.​ between us​.​
She LOVES flowers and that is easy to arrange for me.
My florist friend make a flower bouquet with my mothers favorite flowers.
She deliver them, and instead of the message card I make a video message.
So my mother get fresh flowers and a short video. What a great way to make her happy​​!
Flower power makes people happy.
Do you like to study Dutch Flower Arrangement?
Last call for our OPEN LESSON day 16 June.
In the morning I will show you what kind of beautiful flower design you are going to master, and in the afternoon you will make a hand tied bouquet . Welcome to join !!
Relax, Smile and Enjoy the Flower Power.
Love Dorien.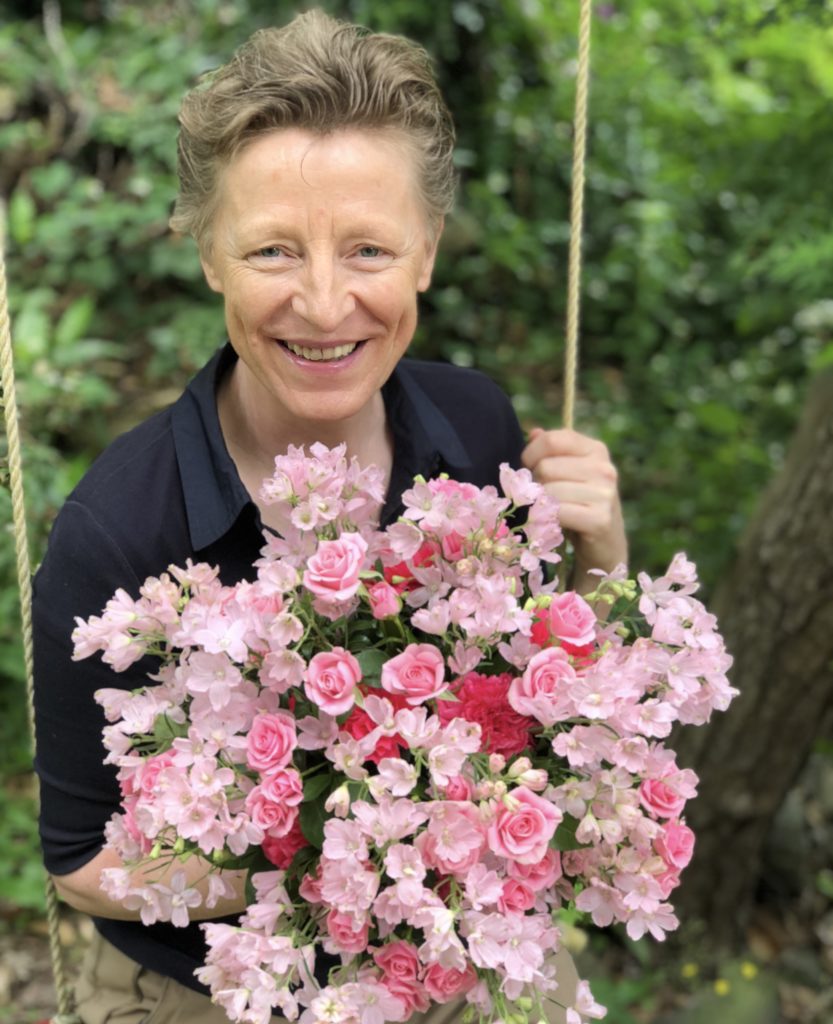 【ドリーンのお気に入り】
2018年06月03日
Dear flower lovers;
For me to use Horse with carriage on my wedding day is most romantic.
Being picked up from my house (I can hear the click clack from the horse shoes :):):):)drive to the town hall decorated with beautiful flower arrangement to marry and then take a nice tour with the 🐎 carriage in nature to make some great photos.
Can you imagine the carriage decorated with beautiful fresh flowers!!!
This is for me no 1. Their are also other options: antique car or your own car, motorcycles, bicycle or 🚣🏻‍♀️ boat. All unique transportation options in the Netherlands 🇳🇱 for the wedding day.
And all decorated with fresh 💐 !!!! Which one you like to use on your wedding day? Please let me know🙏.
1) horse & carriage 🐎
2) antique car 🚙
3) you own car 🚗
4) motorcycle 🏍
5) bicycle 🚲
Students make this modern car 🚗 decoration in the ADFA Advance Dutch Flower arrangement lesson.
Are you already follow me on Instagram? https://www.instagram.com/dorienflowerdesign/
Relax, smile and enjoy the flower power!!
Love Dorien Roling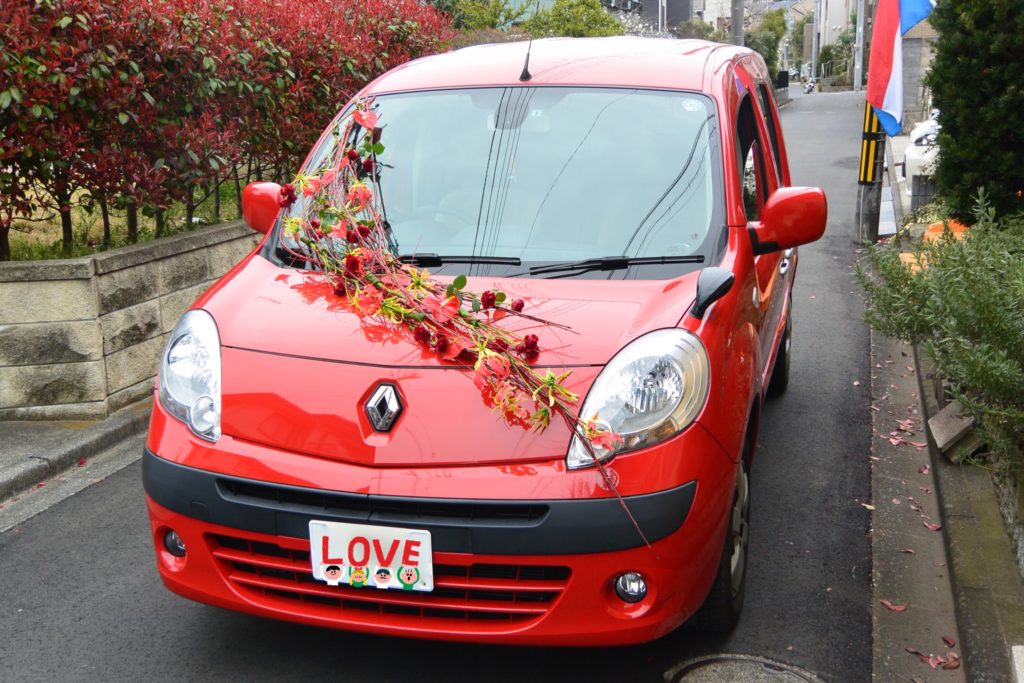 【ドリーンのお気に入り】
2018年05月24日
Dear Flower Lover
Are you sharing the FLOWER POWER?
When I was 12 years old my teacher asked me ; What is your biggest dream Dorien?
My answer was; To make ALL PEOPLE in the whole world SMILE. 😃
Now 45 years later this is still my biggest dream to make people happy and smiling with FLOWERS.
Unbelievable experience for me was with the Warm Heart Project for the Children in Tohoku after the earth quick 2011.
FLOWER POWER did made the CHILDREN SMILE even after this tragedy.
This children showed me the power of the flowers, the warm heart and the beautiful smiles.
You can find photos and videos of the warm heart project (atatakai kokoro) :
http://www.facebook.com/ATATAKAIKOKORO
I am so grateful to be a flower designer, through the flowers we can touch peoples hearts.
Follow your dreams.
Follow your heart.
Take one step today to realize your dream!!
Please let me know your dream !!
Love Dorien Roling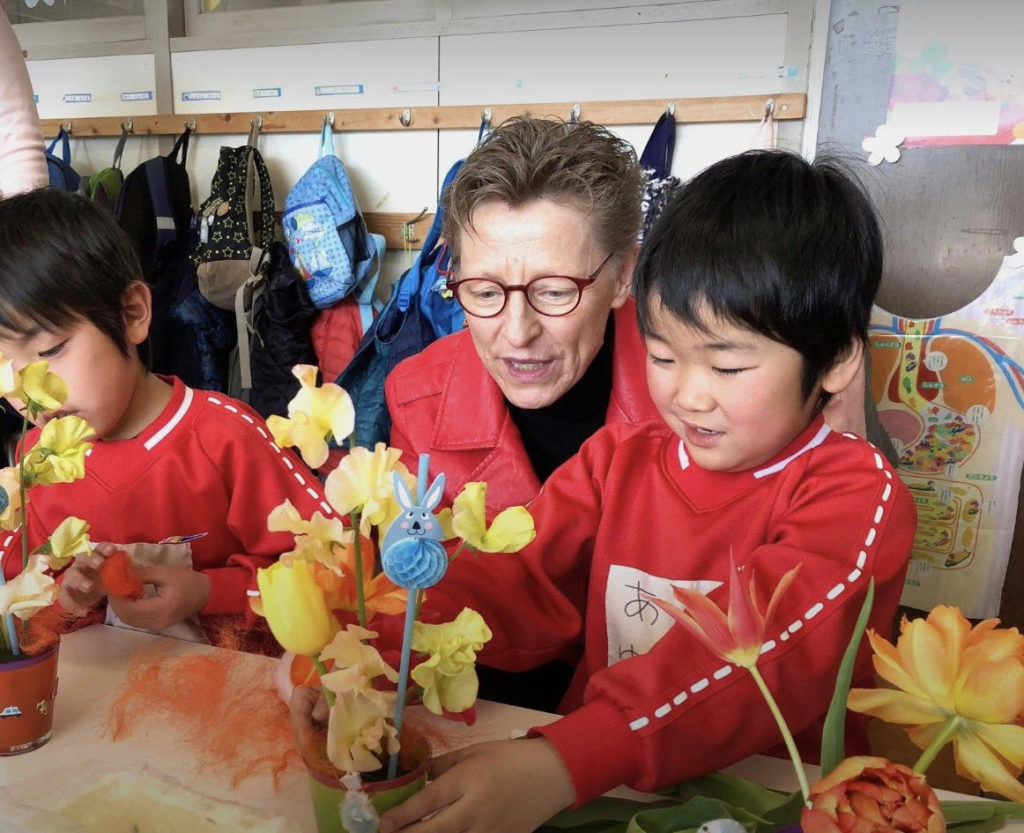 【ドリーンのお気に入り】
2018年05月16日
Dear Flower Lover
Even in our bed room you could find pot plants ready to sell in our flower shop for Mothe's day.
Mother's day is the No.1 busiest day of the year🌱.
When I was 6 years old I ask the florist: what can I buy for my mama and show her my savings ( I had only 50 cent=30 yen. )
Proud with a plant full with flowers I stepped out of the shop 😊.
With Mother's day we give flowers 💐, flower bouquet, pot plant. All kinds of flowers all kinds of pot plants. This is so different than in 🇯🇵 Japan where the red Dianthus are popular.
With Mother's day we visit our mother and give her flowers and other presents 🎁.
As for me I live in japan 🇯🇵 I ask my friend to deliver flowers to my mother in the Netherlands.
Flowers are in our daily life, many people buy every Saturday fresh flowers for enjoy the weekend. It's our culture:)
Let's enjoy the flower power !!!
Love and appreciation to all Mothers 🙏🌹🙏🌹🇳🇱❤️🇯🇵
Dorien Roling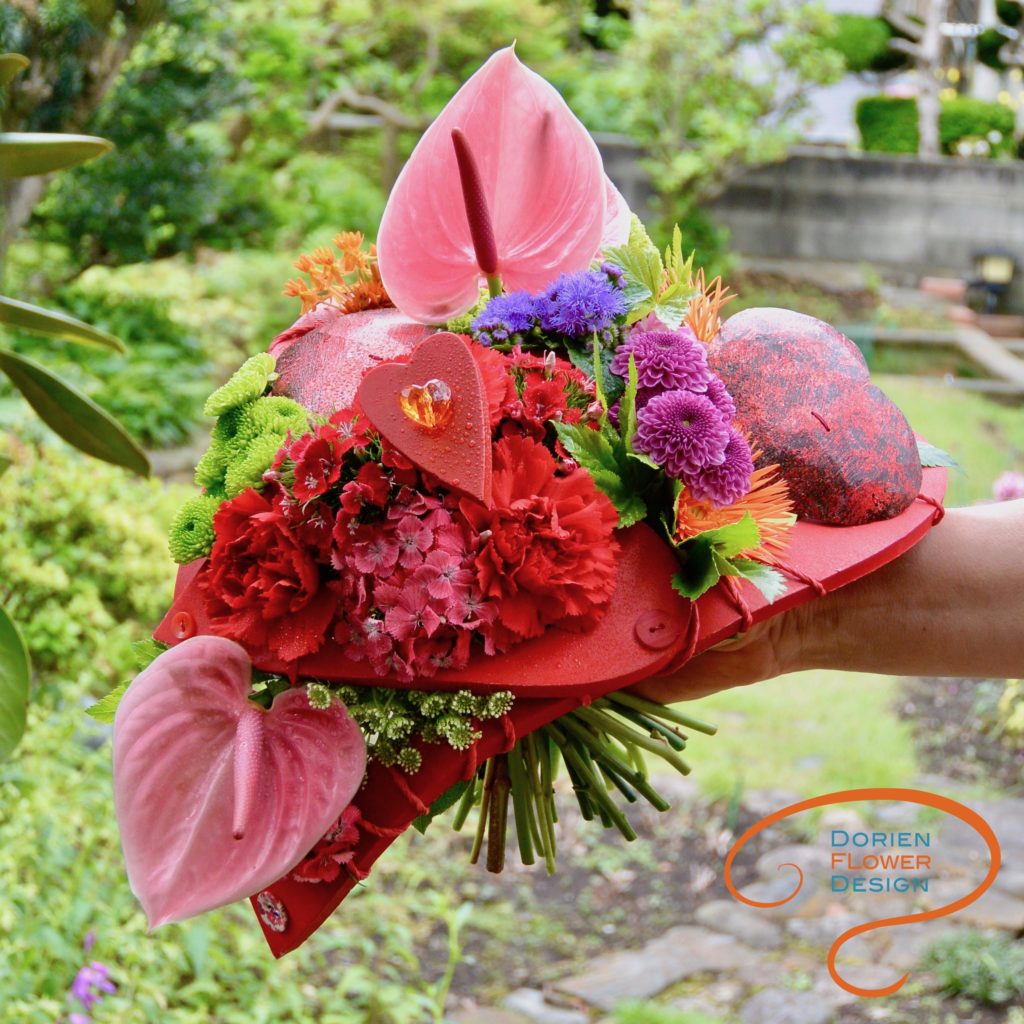 【ドリーンのお気に入り】
2018年04月26日
Dear Flower Lovers,
Your time is the most precious item in your life.
If you learn HOW to SPEED UP your working time you will have less stress and even have time to drink a cup of coffee between making flower arrangements.
Time is money, time frames limits are set all over in our flower business. Students using this SPEED UP technique for their flower arrangement examination. And all our students passed their examination last February 2018.
For our Dutch Flower Arrangement examination SPEED is a big factor of passing the examination. With this diploma you are a Dutch Flower Arranger and capable of working in a (Dutch) flower shop – and then you can make arrangements in a SPEEDY way.
I am making a E-BOOK with 15 TIPS How to SPEED UP Your Working Time. This E-Book will give you the biggest eye opener ever on how to SPEED UP your Flower Arrangement.
The E-Book what will come out SOON will be in Japanese and English.
We will keep you informed when this FREE E-Book is available to download.
Relax Smile and Enjoy the Flower Power.
Love Dorien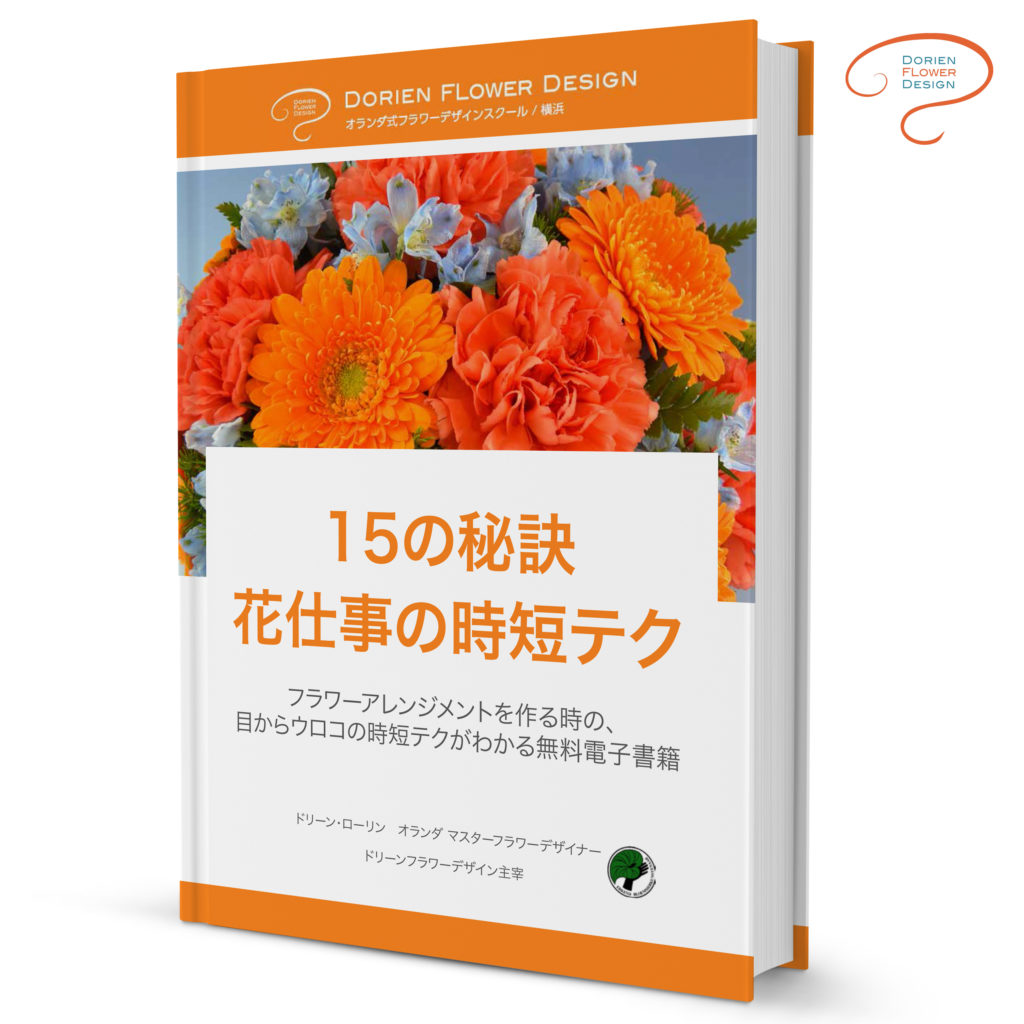 【ディプロマ DFA1】
2018年04月12日
Dear Flower lover
Time for celebrating from YOU CAN DO IT to YOU DID IT !!!
The Dutch Flower Arrangement examination is not easy, technique, design and the time limit need a lot of practice to succeed this examination.
All the new fresh Dutch Flower Arrangers and the Advance Dutch Flower Arrangers got their Diploma from agriculture counselor Dr.Evert Jan Krajenbrink at the Royal Netherlands Embassy in Tokyo 10 April.
The students are so happy and I am so proud of them. One year study and a lot of homework – 100% passed !!
Since 1994 we organize the professional Dutch Flower Arrangement examination in Tokyo.
This diploma is recognized by the Netherlands government and the VBW national florist organization.
The next step can be our Advance DFA course and or join the EFDA Instructor course what I HIGHLY RECOMMEND if you are a teacher!!
You are welcome to join our newly Dutch Flower Arrangement course in our Yokohama atelier on June 16 DFA OPEN SCHOOL.
For info;
http://dorien-flowerdesign.jp
or e-mail; info@dorien-flowerdesign.jp or call; 090-4028-1427 Dorien.
Lets enjoy the flower power and learn new techniques and designs. Looking forwards seeing you in our atelier.
Love Dorien Roling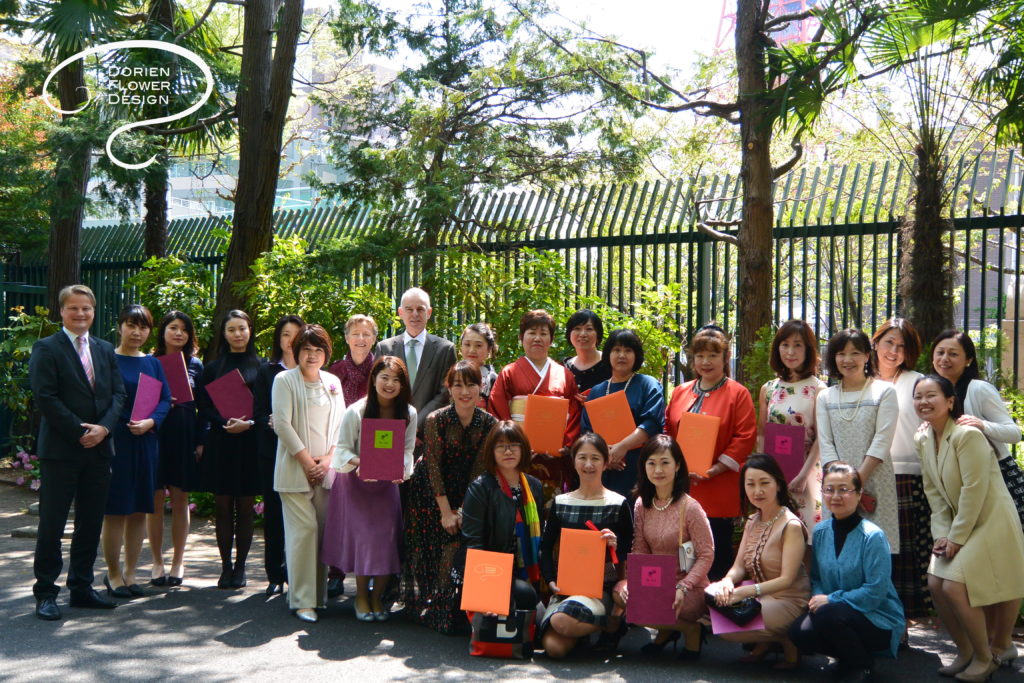 【ドリーンのお気に入り】
2018年04月04日
Are you too enjoying the Sakura petals dancing in the air​, it gives me butterfly feelings in my belly.😃
Last Saturday 31 March we took the last 2 arrangements videos 🙂 🙂 :)now Shimizu san is working with full power on editing and I am writing the text documents. This will be in English and Japanese.
I hope this videos will help you to make beautiful DFA arrangement by your self. I will ad a self check list so that you can evaluate your own arrangement.
You cant wait to see it I know >FROM 1 OCTOBER 2018 it will be ON-LINE.😃 Taking step by step photos of flower arrangement for my books is something total different then taking video!!!!
The video camera man has to do booth and taking video from all angles ..(his camera is coming so so so very very VERY close to me and my arrangement….) and he has to take step by step photos for the text documents.
I am very impressed by the skills of my just graduated fresh video camera man and director. This very exciting video project needs a great team spirit Hata Atsuko sensei EFDA DFA INSTRUCTOR was the director of the video project and closely watch each video shot from Tsuchiya Shodo kun – what is important and where to focus.
Standing up 4;00 am buying flowers at the flower auction market in Tokyo, driving to the atelier and put all the flowers in water with Chrysal. We love to take care of top quality flowers and make top quality DFA arrangement.
All the arrangement are exact as in the matrix of the international DFA examination, ready to put in the examination room be judged. 😃 and get 10 points!!?? We have a great job working with FRESH FLOWERS.
I am feeling blessed to be able to work with my great video crew.
As you can not wait to see the first video I can not wait to hear your comments!!! Will be continued.
Enjoy the Sakura dance !!! Love from Dorien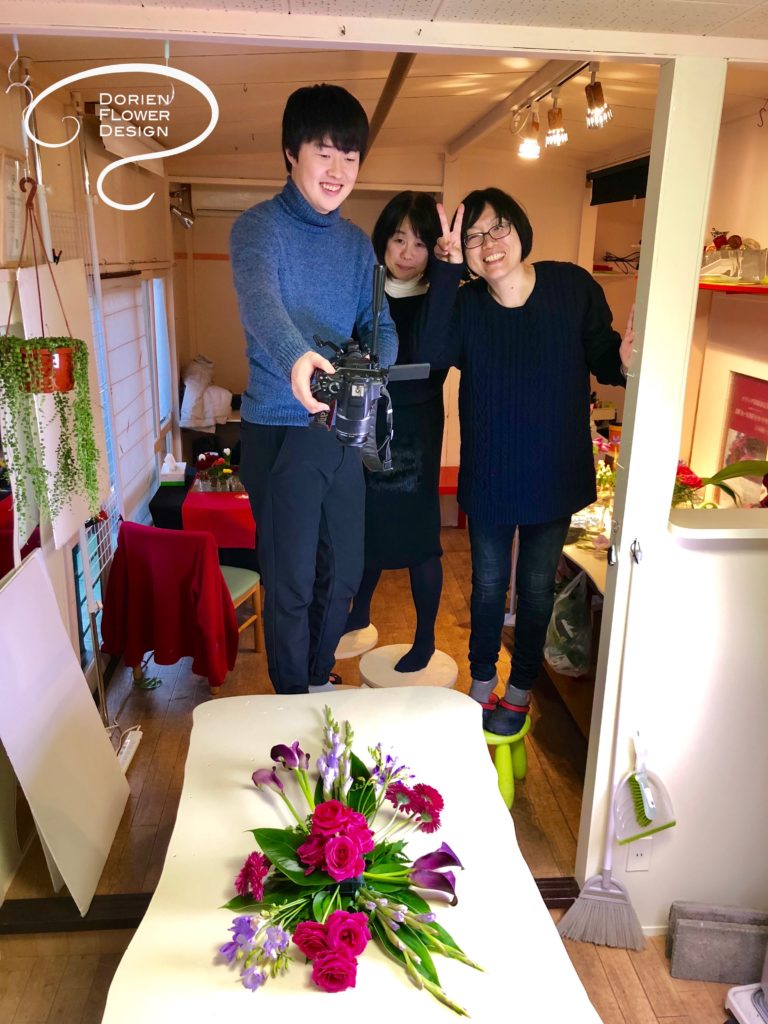 【ディプロマ ADFA1】
2018年04月03日
3月4日に、ADFA1オープンレッスンを行いました。
2月25日にDFA1を合格したばかりの多くの生徒さんが参加。
アトリエに来る生徒さんにまずは「おめでとう!」のご挨拶
ちょっと同窓会的ななごやかな時間でした。
この日はADFA1のレクチャーとカーデコレーションの実技レッスン。
これからのADFA1レッスンでは、オリジナルデザインを伸ばすレッスンが多くなります。
ADFA1レッスンは2年コース。頑張りましょうね。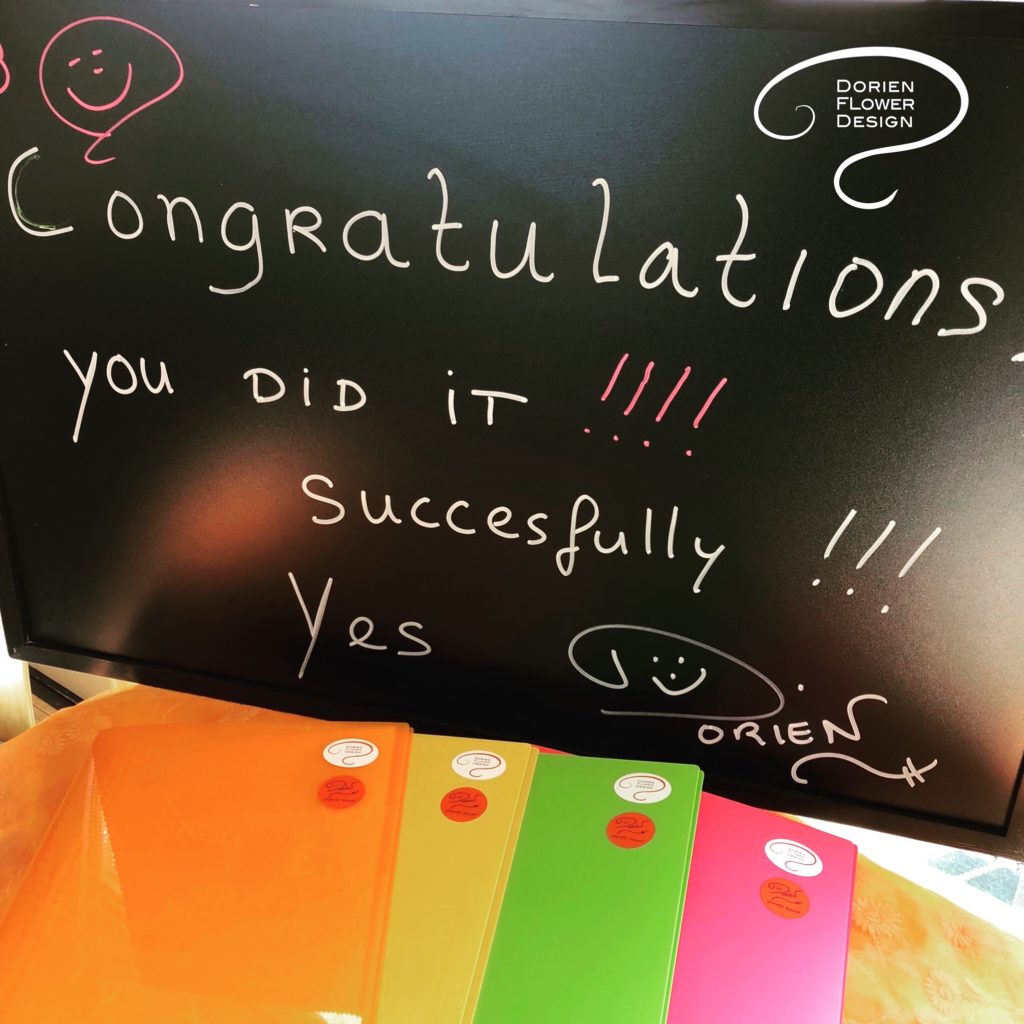 【ディプロマ DFA1】
2018年04月02日
3月3日にDFAオープンレッスンを行いました。
午前中はドリーン先生からDFA1についてのレクチャー、午後はハンドタイドブーケのレッスン。
これから約1年、来年2019年の受検を目指す第一歩の日。
一緒に頑張りましょう!
6月にもオープンレッスンを予定しています。
国際ライセンスにチャレンジして、お花のスキルアップしましょう!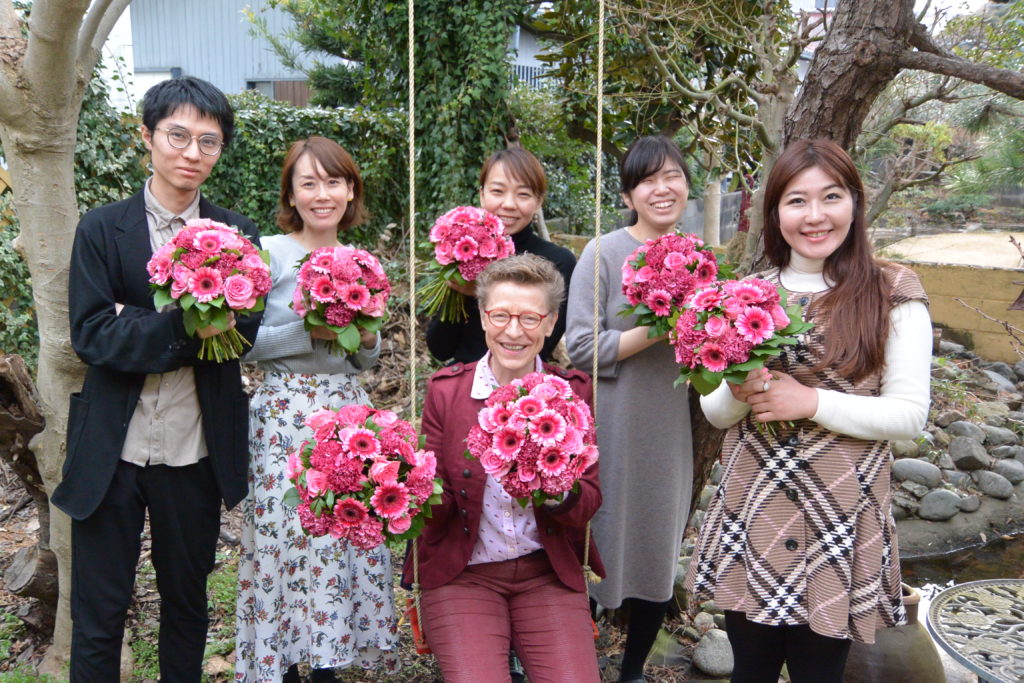 【ドリーンのお気に入り】
2018年04月01日
Dear Flower Lover
Whooo Whooo Whooo Japan is HEAVEN now with all the FULLY BLOOMING PINK SAKURA trees !!!
And the temperature is so NICE with 25 degree, the energy and the fragrance whooo whooo whooo, this feels like HEAVEN!!!
All the kids are playing in the park and having BBQ, I could see many people making beautiful paintings of the pink Sakura trees.
Everybody looks so happy and that makes me HAPPY TOO.
p.s. Dorien Trendy workshops till summer are fully booked only one seat is still available, April 15 Sunday from 10;00 to 17;00.
You are going to make a trendy frame bouquet with Fresh flower in a special circle technique and in the afternoon a two in one design with 2 Dutch Trendy vases on one plate.
Lets enjoy and creating the flower powered designs & eating a fabulous home made luncheon in the atelier garden. Max 8 students.
Shall we meet on 15 April? One seat left first come first served; call for reservation . ​ 090-4028-1427 Dorien or 090-1660-4899 Hata.
Enjoy the SAKURA PETALS DANCE.